We've talked at length about our incredible Psychosocial Recovery Coaches (PRC), but we've not yet delved into the 'how' of what they do for their customers. Well, today we're changing that! Strap in, because we're tackling one of the biggest and most important aspects of a PRC's role – recovery planning!
Understanding Psychosocial Recovery Coaching
The PRC job itself didn't exist before the service was introduced into the NDIS in 2020. Because of its relative newness, there's still a bit of mystery surrounding its purpose and remit.
It's important to understand where they fit in a person's support network before we talk about the services they provide.
Many people find the PRC title a little vague, so while meeting with customers and members of their support network, PRC Ben has had plenty of opportunities to refine his explanation.
"PRC combines elements of other roles that people are more familiar with. In my mind, it sits somewhere between Support Coordination and Mental Health Support Work, though I want to highlight that it's a very different job to both of those, and all of them can work together within a person's support network."
As for the expertise a PRC brings to a role, it also deviates from many jobs. Qualifications in mental health, social work, psychology, and community services are common, but not required. In fact, some PRCs won't have any qualifications – but they do bring valuable lived experience. Working through their own mental health challenges gives them unique perspective on managing certain conditions, navigating the complexities of the mental health and disability systems, and understanding that recovery is not linear.
It's precisely these qualifications and experiences that make PRCs so well-positioned to deliver an important support: recovery planning.
Recovery planning 101
When embarking on any complicated or unfamiliar journey, it's good to have a map, right? That's essentially the purpose of a recovery plan – to guide you, keep you on track, and provide clarity when presented with a crossroads. It also helps to wrangle the many moving parts of recovery, which we'll go into later (with a diagram!).
A typical recovery plan involves many elements, which we'll go through here:
1. Understanding your story
Perhaps the most important ingredient in crafting a recovery plan is having an in-depth understanding of the your unique context.
It's helpful for a PRC to know your history – family, cultural, spiritual, social, work/study, and medical histories are all beneficial. Knowing what has already happened is useful when trying to figure out what needs to happen.
Of course, your PRC doesn't expect someone to be comfortable recounting their life story in the first meeting. This process usually takes a while – but hey, so does recovery! We also make use of existing supports, asking them for information (with consent) so that you don't have to recount everything again and again. We understand that it can be tiring repeating the same story for every new person that joins your support network.
2. Goal setting
Every NDIS plan is built around goals, but people tend to have aspirations and desires outside of those. One of the coolest things about having a PRC is that they can help you work towards personal goals, not just those in your NDIS plan.
A good recovery plan will outline NDIS goals and other goals. The only criteria is that they must be beneficial to your mental wellbeing.
It's no secret that kicking goals (pun intended!) can make you feel fulfilled; small wins keep us motivated en route to the big wins. That's often the rationale applied to a recovery plan – if we start small, it's not so overwhelming, and we have a way to build momentum and motivation.
3. Crisis management
Many people with mental health conditions will experience a crisis. These manifest differently from person to person, and they can be brought about by different triggers, though they are always distressing. During times like these, your PRC is ready to support you to access the right crisis support, but the best support is tailored, consensual, and planned.
Your PRC will talk to you to understand the signs that you are unwell, and your preferred course of action should a crisis occur. Together, you will make a plan that your PRC will enact to help you through a tough time.
A plan will detail ways that your support network can come together, any other services or supports that you may need, and friends or family that can be looped into whatever's going on. Again, the development of your crisis plan is led by you, so nothing happens without your consent. The exception here is if your PRC is concerned for your welfare – their duty of care means they will contact the appropriate services if they are worried.
Domains of recovery
Recovery is a multi-faceted beast, and a PRC needs to carefully consider how the many different aspects of someone's life are interacting to affect their psychological wellbeing.
For example, an injury may be impacting someone's ability to get out and about, resulting in them feeling stuck at home or pent up. While a PRC is not a medical professional, they can certainly support you to access a doctor or specialist who can assess the situation.
As we keep saying, recovery is seldom straightforward. It can be hard to know where to start or what will help when everything is so intertwined. A PRC can step in and identify a starting point that can remove the initial barriers.
Here's a diagram demonstrating the various parts of recovery. The bottom three, 'medical needs and physical wellbeing', 'financial services', and 'housing providers' are all beyond the scope of a PRC, but that's not to say they can't talk with you about the problem and connect you to someone who can help.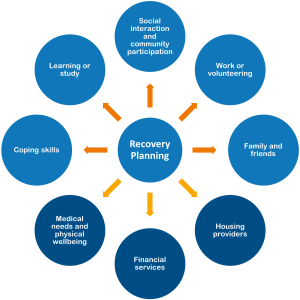 Talk to our team
Interested in exploring the role that a PRC can play in your recovery? Click here to submit an enquiry form, and a member of our team will be in touch.