These days, you may have noticed that more and more NDIS plans are including funding for Psychosocial Recovery Coaching as well as Support Coordination. If nothing else, this gradual evolution signifies a positive shift in the NDIS's recognition of mental health in the community.
However, it does pose some questions. For instance: how can a Psychosocial Recovery Coach and a Support Coordinator work together effectively? How can the two operate side-by-side without stepping on any toes? How does having both enhance outcomes for the participant?
A Psychosocial Recovery Coach (PRC) and a Support Coordinator can be a powerful team.
A Psychosocial Recovery Coach (PRC) and a Support Coordinator can be a powerful team. It all depends on the working relationship and the trust between them, and that's why the PRCs at Enhanced Lifestyles take a collaborative, transparent approach to working together with Support Coordinators.
It's worth noting that Support Coordination and PRC are two very different roles, but they do overlap in some ways. However, the overlap should only be apparent when a participant uses one or the other – not both. If a participant utilises both, the two roles should complement each other and operate uncompetitively. In this situation, both service providers have an opportunity to maximise their funding to really address the challenges and goals in the participant's life. For this reason, we believe that a NDIS participant with both a PRC and a Support Coordinator has access to an incredibly robust support network!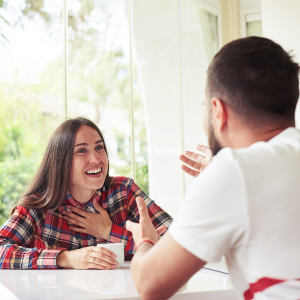 We know that Support Coordinators can feel some trepidation about referring their customer to a PRC from another provider, particularly if the other provider offers Support Coordination. However, when we allocate a PRC to a customer that is referred by an external Support Coordinator, we make sure that boundaries are in place to preserve the value of both roles. Enhanced Lifestyles is a member-governed not-for-profit (more on that later), which means that we believe in the rights of people living with disability, and everything we do is designed to respect those rights. We know that our customers know what's best for them, especially when it comes to choosing service providers. So, when we receive a new referral for a PRC customer from a Support Coordinator, we take a collaborative approach rather than a competitive one. We weren't founded with the aim of monopolising the market; instead, we support and work with other providers to foster a sector rich in diversity of choice for our customers.
It's also worth mentioning that our PRCs have plenty of tasks to complete for customers that fall outside the purview of a Support Coordinator, and these can make the Support Coordinator's job a little easier. Because our team of PRCs have both lived and learned experience with mental health, their focus (and passion) is working with the participant to manage and improve their mental health. This involves the development of a goal-focused recovery plan, and the research and organisation of non-NDIS resources such as clubs, hobby groups, and leisure activities. Plus, PRCs have the funding to regularly catch-up with customers and, afterwards, will feed back any developments or requests to the Support Coordinator for actioning. Essentially, referring customers to a PRC can have many positive flow-on effects – not only can it help Support Coordinators to maximise their funding, it's also a great way to help the customer access even more support in the pursuit of their goals.
It might sound a little idealistic, but our PRC service is strongly informed by our customers' needs and desires
It might sound a little idealistic, but our PRC service is strongly informed by our customers' needs and desires. This approach is an important part of our identity as an association.
Over thirty years ago, a group of people living with disability realised that no one was better equipped to choose the kind of support they needed than themselves. Honing their knowledge and skills, together they became architects and builders of their own individualised disability services. Today, Enhanced Lifestyles remains a member-governed not-for-profit. By designing support services based on lived experience, we deliver the services people want to help them live their life how they choose. If you'd like to learn more about our history, member-led model, and ethos, you can find out more here.