Thinking about joining our team? Find out what a Lifestyle Attendant is, read about the duties they perform in a typical day, and discover the qualifications that are needed for such an important and rewarding role.
The team at Enhanced Lifestyles gets bigger every day – especially our Lifestyle Attendant* team. In this article, we're talking about the role of a Lifestyle Attendant, what a typical day on the job involves, and why it's so rewarding to work with our amazing customers. We also provide an overview of the qualifications that Lifestyle Attendants need to have in order to provide the very best supports.
*Note: you may be familiar with the term 'disability support worker' as common industry terminology. At Enhanced Lifestyles, we use the term 'Lifestyle Attendant' to refer to our disability support worker and personal care providers. This is grounded in our customer-centred approach, reflecting the way our customers remain in control across their lifestyle choices.
What is a Lifestyle Attendant?
You may not have heard of a 'Lifestyle Attendant' before, and that's OK – it's not a widely used term across the disability sector or the NDIS. Basically, our Lifestyle Attendants are similar to the more well-known Disability Support Workers and Personal Care Workers. They perform a lot of the same duties – but there is a difference!
Our approach to service delivery is the reason that our Lifestyle Attendants are named differently. At Enhanced Lifestyles, we are all about (yep, you guessed it) improving our customers' lifestyles. Our Lifestyle Attendants work with the customer, making sure that the customer is empowered to direct their services and have complete control of their lifestyle. By working with a Lifestyle Attendant, a customer receives the very best support to optimise their lifestyle, do what they want to do, and – most importantly – determine how they live their life.
This is great for the customer – who wouldn't want to be in charge of their lives? But there are also huge benefits for the Lifestyle Attendants themselves. Enhanced Lifestyles' approach to service delivery provides great opportunities for staff to develop customer-centric practices. By knowing how to respectfully empower customers to have control of their lives, a Lifestyle Attendant can seriously bolster their career – these skills are highly sought after in many sectors as demand grows for care services.
What duties do Lifestyle Attendants perform?
A typical day for a Lifestyle Attendant involves many rewarding tasks, and a good variety of them, too! Let's talk about a few of the most common duties that our team perform and why they are so important.
First, there's personal care. This involves supporting customers to maintain personal hygiene, shower, dress, and transfer to and from assistive equipment (manual transfer or hoist transfer). Depending on the customer's preferences, Lifestyle Attendants can also support them with hair care, nail care, and make-up application. It's all about making sure the customer is confident, well-presented, clean, and – importantly – empowered to express their personal style.
Many customers have complex health needs.  Lifestyle Attendants who have received training from our Clinical Nurse Consultant will be able to assist with these important tasks. In-house training is uncommon in our sector, but this helps us ensure that all staff providing complex health support have the right knowledge. Plus, the training equips Lifestyle Attendants with the skills to always ensure that the customer is treated with dignity and respect – a win for everyone.
Lifestyle Attendants also help customers with meal preparation. The customer chooses which meals are prepared and when, so meal preparation can involve breakfast, lunch, or dinner – or all three! Here, Lifestyle Attendants have the opportunity to ensure that the customer gets to eat the food they love. If one of the customer's NDIS plan goals is to maintain a healthy diet, meal preparation can have a truly meaningful impact on their lifestyle.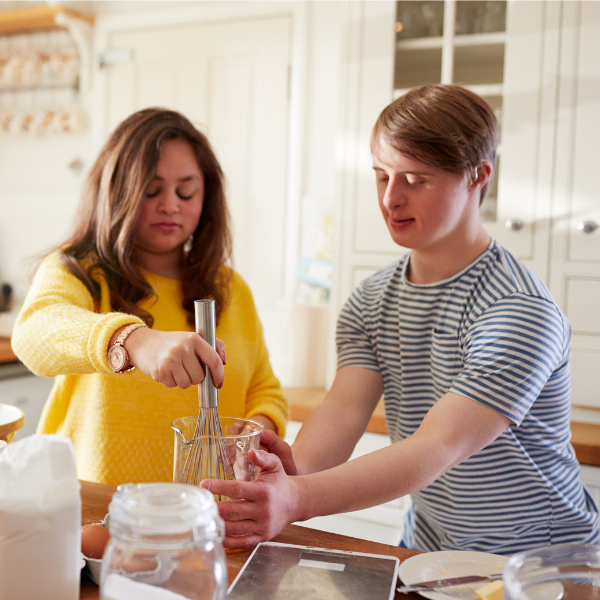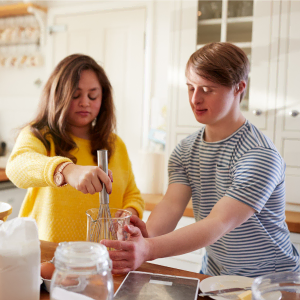 There's also domestic assistance, meaning that Lifestyle Attendants may be asked to keep customers' homes clean, safe, and tidy. Duties may include bed making, general cleaning, washing dishes, and doing laundry. These tasks are so important to the customer, especially if they spend a lot of time at home. Essentially, Lifestyle Attendants get to play a part in improving customers' satisfaction with their home environments, which can provide a huge boost to happiness.
A lot of our customers receive community access support. Lifestyle Attendants accompany customers as they get out into the community to run errands, engage with other NDIS services, or see family and friends. Community access can also involve assisting the customer at work, school, or on campus. Plus, Enhanced Lifestyles recognise the importance of social connection for wellbeing, so we host Adelaide Lifestyle Lunches and Riverland Coffee Clubs each month for customers. Customers can choose to bring their Lifestyle Attendant to these events, providing them with a great social outlet and a chance to make new friends while being fully supported.
Last but not least is transportation support. Lifestyle Attendants help customers to travel to and from shops, community facilities, specialised classes, events, appointments, work, and school. This is all about ensuring that customers can access everything they need while being punctual and safe in their travels.
As you can see, Lifestyle Attendants provide services that empower and equip the customer to live the life that they want. Unique differences are celebrated and encouraged, and needs are fulfilled with a focus on the customer's preferences. If this sounds like the right job for you, keep reading to find out about the qualifications that Lifestyle Attendants need.
What qualifications does a Lifestyle Attendant need?
As mentioned earlier, Lifestyle Attendants can work alongside customers who have complex needs and require highly personal care. If you want to become a Lifestyle Attendant, qualifications that equip you with the right skills and knowledge to provide safe and quality care are super important. We often look for people who have:
Current DCSI Child Clearance or Working with Children Clearance
DCSI Disability, or DHS Disability, or NDIS Worker Screening Check
First Aid Certificate (within the last 3 years)
Manual Handling Certificate (within the last 2 years)
CPR Certificate
NDIS Orientation Module
COVID-19 Infection Control Training
South Australian Driver's License and own reliable vehicle
Previous experience working with people with a disability
Certificate in Disabilities, Aged Care or Community is highly desirable.
Full COVID-19 vaccination with a Therapeutic Goods Administration (TGA) approved vaccine, as mandated by the Government of South Australia.
How do I apply to become a Lifestyle Attendant?
Demand for our services is growing, so we're always looking for passionate Lifestyle Attendants. If you want to be a part of our team, we would love to hear from you – just email us at apply@enhancedlifestyles.com.au and include these three things:
Your resume, including two references and their contact details
2. Your NDIS clearance
3. Your First Aid certificate
Read more about what it's like being a Lifestyle Attendant