In May, we settled on the purchase of a new property in Berri at 20 Kay Avenue. Due to continual growth in the region, our current office, located on Wilson Street in Berri, no longer suited our needs.
Refurbishments for the new office are underway. We are working with an architect to finalise drawings for the premises, keeping our customers' needs at the forefront of our plans.
The preliminary floorplan is below, and our intention is to use the rooms as follows:
Office 1: Administration Team
Office 2: Customer Relations Team
Office 3: Support Coordination Team
Office 4: Meeting room
Office 5 and 6: A training room for Lifestyle Attendants, which can also be utilised for group activities
Group Activities: A large open plan room designed for customer group activities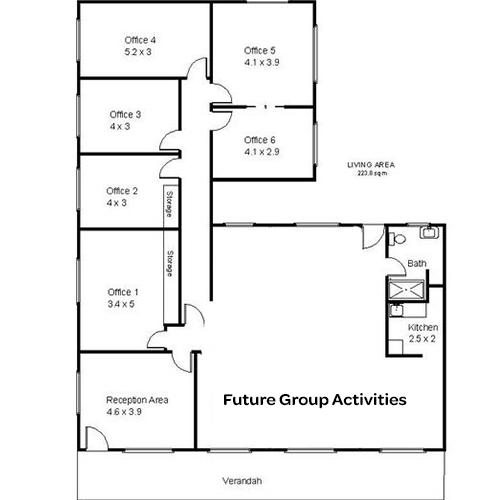 We're excited about the opportunities the new office will create, allowing us to provide a greater range of services and support to customers in the Riverland. Our designated training space will provide us with resources to deliver additional training to Lifestyle Attendants, ensuring they're equipped with the knowledge and skills to best support our customers.