The first thing our Support Coordination Manager Sarah Sayer noticed about Kathryn Evans was her infectious, positive attitude.
"Kathryn's a very happy-go-lucky type of young lady," Sarah says. "She's always bright and bubbly, and she loves performing."
It wasn't always this way. When Kathryn was 11, she was dealing with a lot of anxiety about not fitting in with other kids her age. These emotions took such a toll on her that her body started to shut down. For years, Kathryn couldn't walk, talk, or swallow – a far cry from the joyful, active child she once was.
Despite not being able to talk, Kathryn's inner life was rich and vibrant. Writing became an important outlet during this difficult time and once she regained her abilities, she penned an original play based on her experiences called Frozen Girl. In 2017, she collaborated with Tutti Performing Arts Ensemble to bring her script to life. For a creative soul like Kathryn, this was a dream come true.
Now, let's fast forward to 2020 when Sarah became Kathryn's Support Coordinator. Most of Kathryn's service providers were already in place, so Sarah's focus was ensuring they were still contributing towards Kathryn's goals. She'd speak with Kathryn and her family regularly to monitor her progress and, in the process, got to know them really well.
In late 2022, the Enhanced Lifestyles team decided to develop an advertising campaign. We had no idea that Kathryn's journey was going to intersect with this new venture in the most brilliant way.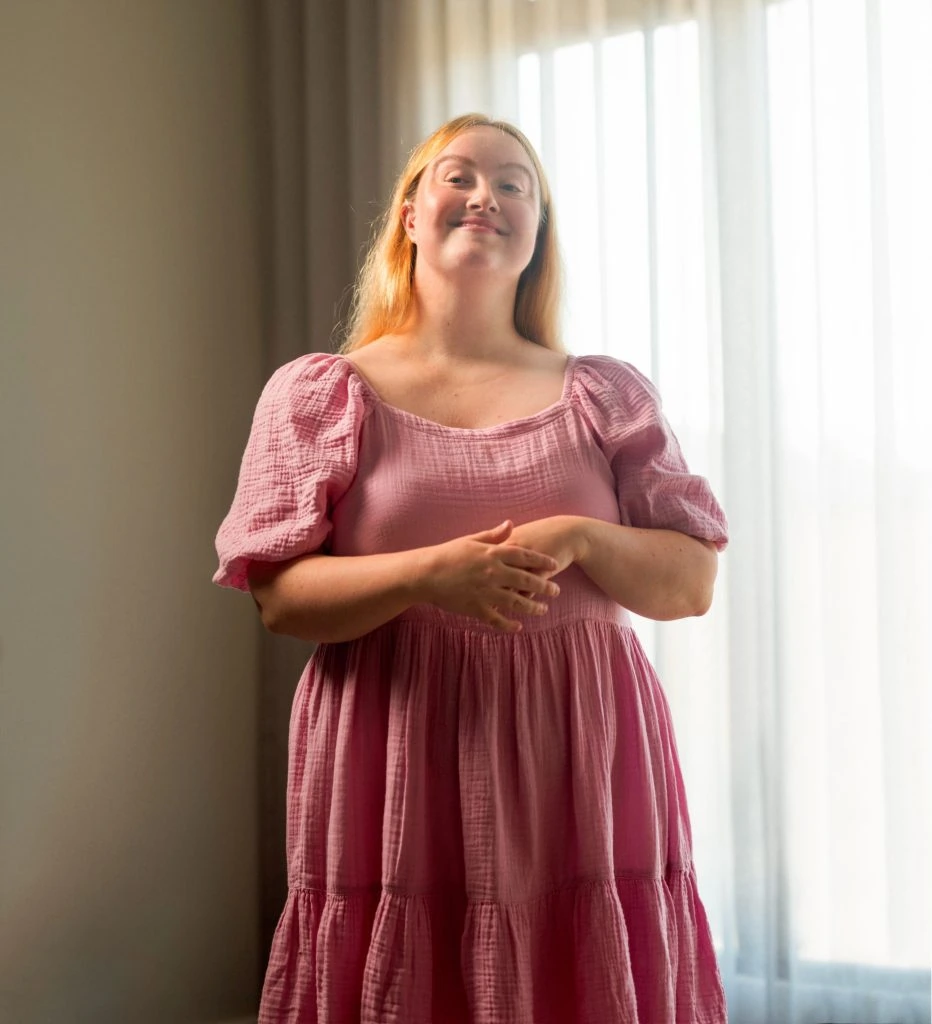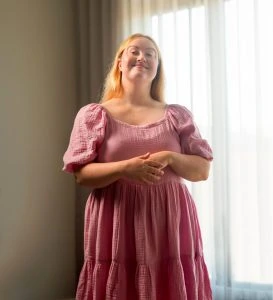 Our vision for the campaign was that our customers would be front and centre. After all, we were founded by people living with disability, and we continue to be customer-led through our members and Board to this day. In keeping with this philosophy, we wanted customer input on our campaign.
Some of our customers attended focus groups where we presented the early ad concepts. Kathryn attended with her mum and her suggestions were so impressive that she nabbed a starring role!
Without spoiling too much about Kathryn's ad, the concept was built around her love of dance. Kathryn arrived for filming in a flowing, bubblegum-pink dress, every bit the dancing queen. She enjoyed being pampered by a professional makeup artist before putting on a performance inspired by classic Spice Girls anthems.
Of course, with such an amazing relationship we asked Sarah to participate in the ad along Kathryn.
"Watching Kathryn perform was amazing. She's really come so far," Sarah says. "Her personality really comes across in the ad and I can't wait for everyone to see it."
Kathryn's ad will make its debut in early June. Keep an eye out for her when it goes live!